do you want to know everything about Chartreuse? Chartreuse is a French liqueur considered as a great digestive, its powerful and pleasant taste has made it a favorite throughout history. Chartreuse is considered one of the oldest liqueurs, and history has placed it at the beginning of the elaboration of the first liqueurs in the world, come with us to discover more about this enigmatic drink.
what is Chartreuse?
Chartreuse is an herbal liqueur of French origin, with a powerful and very structured flavor, it is spicy with an intense finish, which makes it a persistent drink with elegant aniseed notes.
Origin of Chartreuse
Everything seems to indicate that Francois Hannibal d'Estrees, who was a Marshal Artillery of Henry IV, took to the Order of the Carthusian Monks in 1605, a secret manuscript where the recipe of an elixir for eternal life was exposed.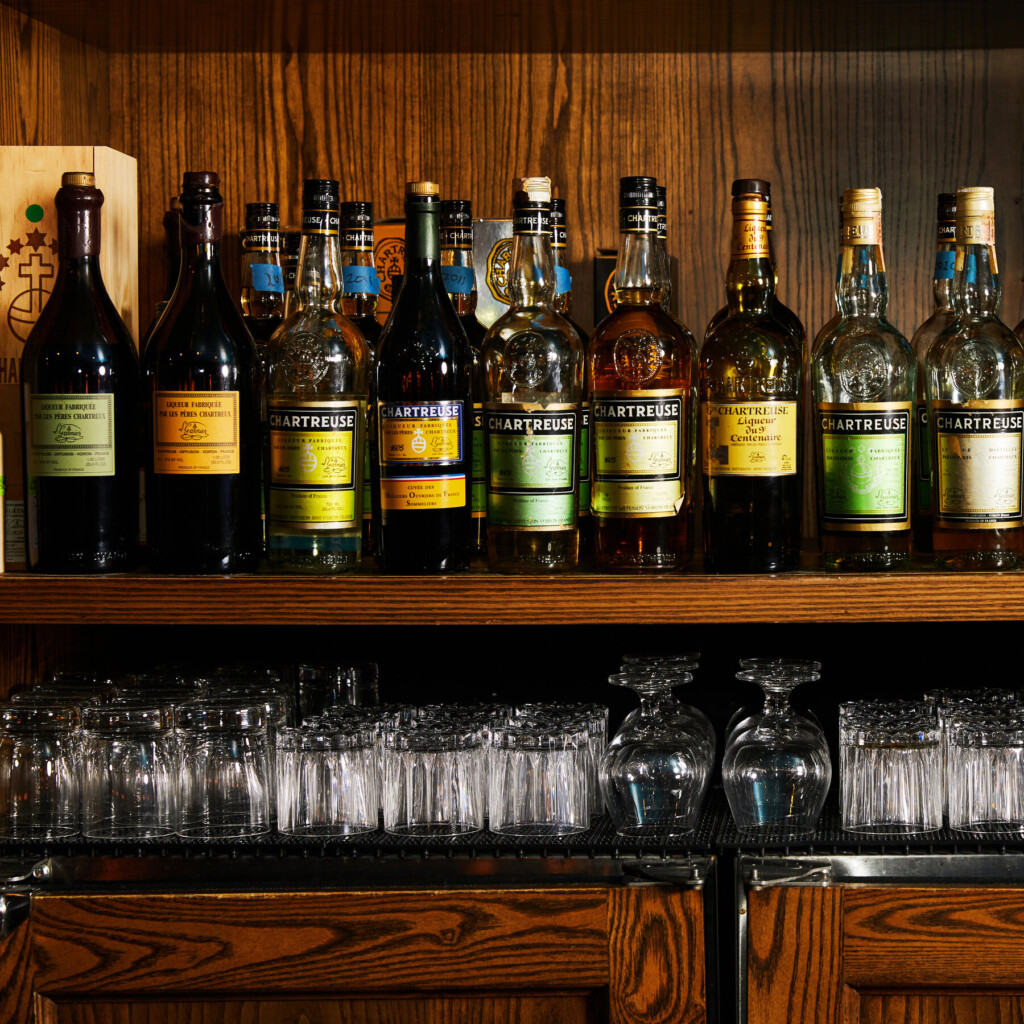 The secret formula was brought to the monks in Voivron, at the monastery of Grande Chartreuse, in the Chartreuse Mountains, in southeastern France. At the beginning, the monks used the recipe for medicinal purposes thanks to the herbs with which it is made and in 1737 Father Jerome Maubec extended its use, which led the liqueur to achieve remarkable publicity, thanks to its flavor and its peculiar green color.
In 1840, Father Jaques discovered the yellow Chartreuse, thus achieving a much sweeter liqueur with a lower alcoholic content. In 1903 the monks were expelled from France by government order and took refuge in Tarragona, south of Barcelona.
Once their properties and distillery in France were confiscated, these monks resumed their activity, modifying their labels where they placed: Liqueur made in Tarragona by the fathers of Chartreuse.
At the end of the Second World War, the government removed the expulsion order, which allowed the monks to take up residence in France again. The legend surrounding this peculiar liqueur says that only three monks participate in its preparation, each one knowing separately a third part of the recipe, so as not to reveal the secret of the formula even among themselves.
what is Chartreuse made of?
Chartreuse is made from 130 herbs and flowers from the French Alps region, which are macerated in grape alcohol and distilled several times. The resulting alcohol is mixed with distilled honey and sugar syrup before aging in oak barrels.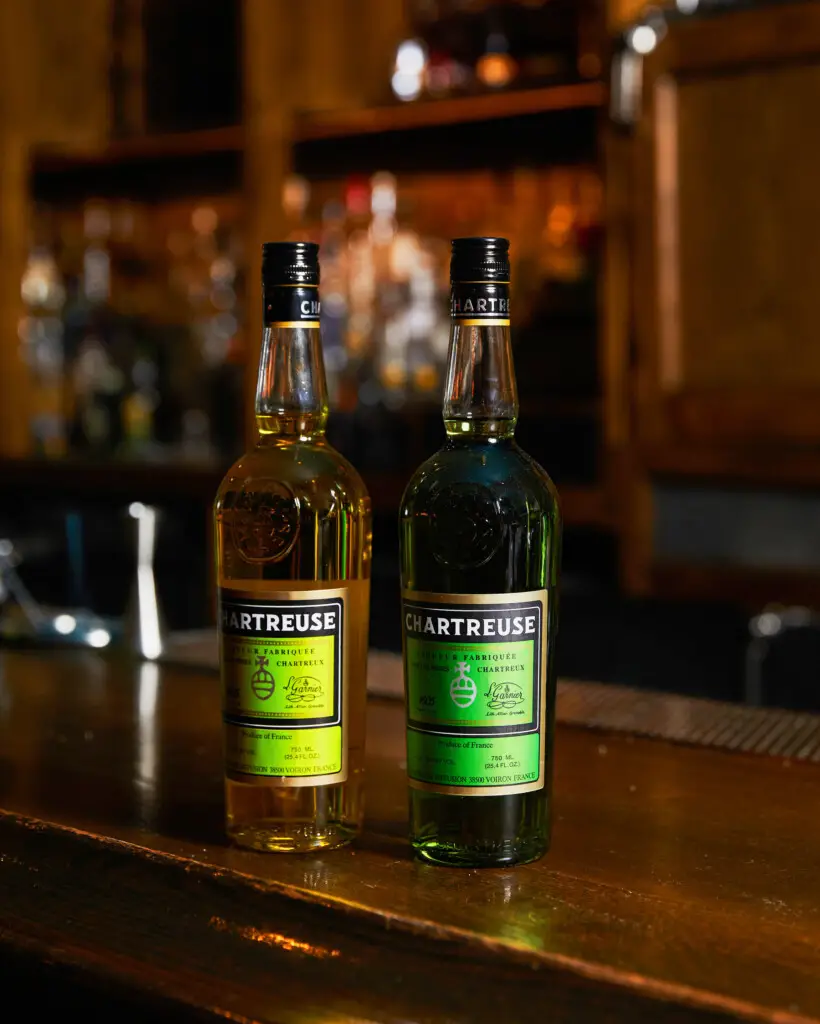 However, the recipe remains a secret, is not patented and is known exclusively to two monks who pass it down from generation to generation. The mixture of herbs is prepared in the plant room of the monastery and brought to the distillery in large cloth sacks.
what are the types of Chartreuse that exist?
There are two types of Chartreuse, and although they come from the same original recipe, with the same quantity of herbs, the elaboration processes vary.
Green Chartreuse
It has been made since 1764 and stands out thanks to its interesting bright green color due to the chlorophyll of the plants that gives it its characteristic color. It has an alcohol content of 55°.
Yellow Chartreuse
Produced a century after the green chartreuse, it is milder and is made from the same plants but in different proportions. It has an alcohol content of 40 proof and is colored with saffron.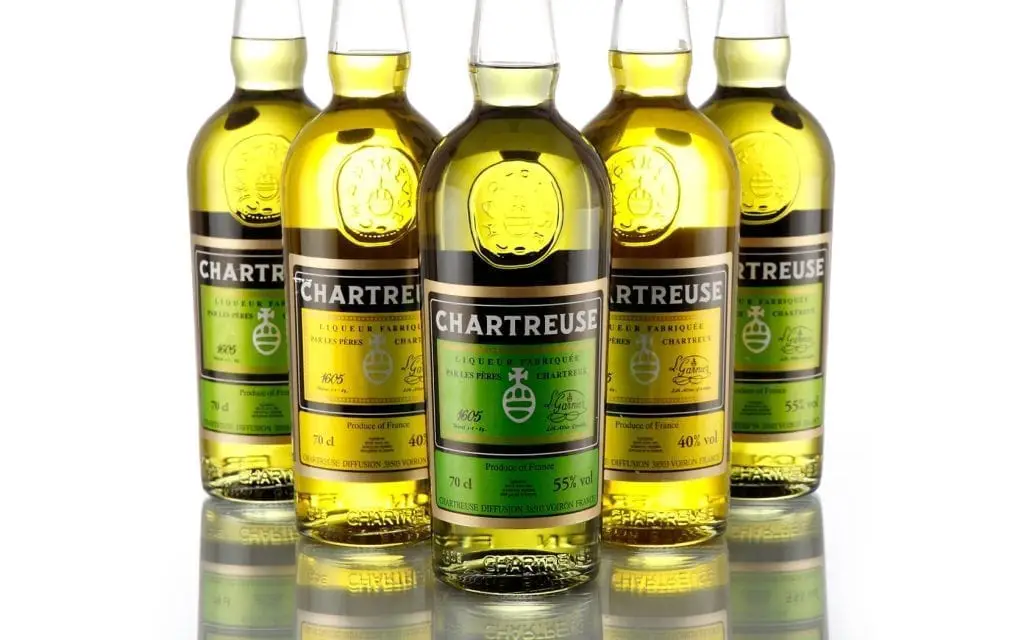 We can also find other types of Chartreuse such as:
Chartreuse VEP (Vieillissement Exceptionnellement Prolongé)
It is elaborated with the same secret processes of the traditional liqueur but it is aged longer in large oak barrels to reach an exceptional quality. This Chartreuse can be found in yellow or green bottles and its alcohol content is usually 54º for the green one and 42º for the yellow one.
Elixir Végétal de la Grande-Chartreuse Known as the elixir of herbs, and manufactured since 1737, it stands out thanks to its unique flavor from the secret blend of one hundred and thirty herbs and its alcohol content of 71°.
It is usually consumed by adding a few drops to an infusion or on a sugar cube. Chartreuse 1605 – Liqueur d'Elixir It is made according to the original recipe of 1605, has an alcohol content of 56° and is considered by connoisseurs as the ancestor of the green Chartreuse.
How to make homemade Chartreuse step by step
Although the recipe is a mystery and only known in the monastery of Chartreuse, we can elaborate from the comfort of our home an artisanal recipe of Chartreuse from Tarragona. Ingredients what ingredients are needed to prepare this recipe?
A spoonful of chamomile flowers
A sprig of thyme
A sprig of rosemary
A few basil leaves
A sprig of lemon verbena
A few tarragon leaves
A sprig of oregano
A few mint leaves
A spoonful of matalahúva
A couple of star anise
A few coriander leaves
750 ml of aguardiente de orujo (brandy)
150 grams of sugar
How to prepare this recipe is very easy to prepare! Dare
Chop by hand all the herbs
Then put them together with the brandy in an airtight jar
Leave to macerate for 20 days
Once the time has elapsed, make a syrup by boiling the water with the sugar and let it cool
Once cold, mix the syrup with the filtered pomace
It is bottled and left to settle for 15 days before drinking
How to drink Chartreuse correctly
Chartreuse is usually drunk on its own as a digestif, on the rocks or as an accompaniment to other liqueurs in the preparation of different cocktails. Its powerful, intense, structured and pleasant taste can be appreciated if it is consumed with ice, as it shows its organoleptic characteristics in all its splendor.
+3 Chartreuse cocktail recipes you should know about
Chartreuse is increasingly used in the preparation of different cocktail recipes and drinks that seek to envelop the palate of everyone who seeks to enjoy the moment with unique and special flavors.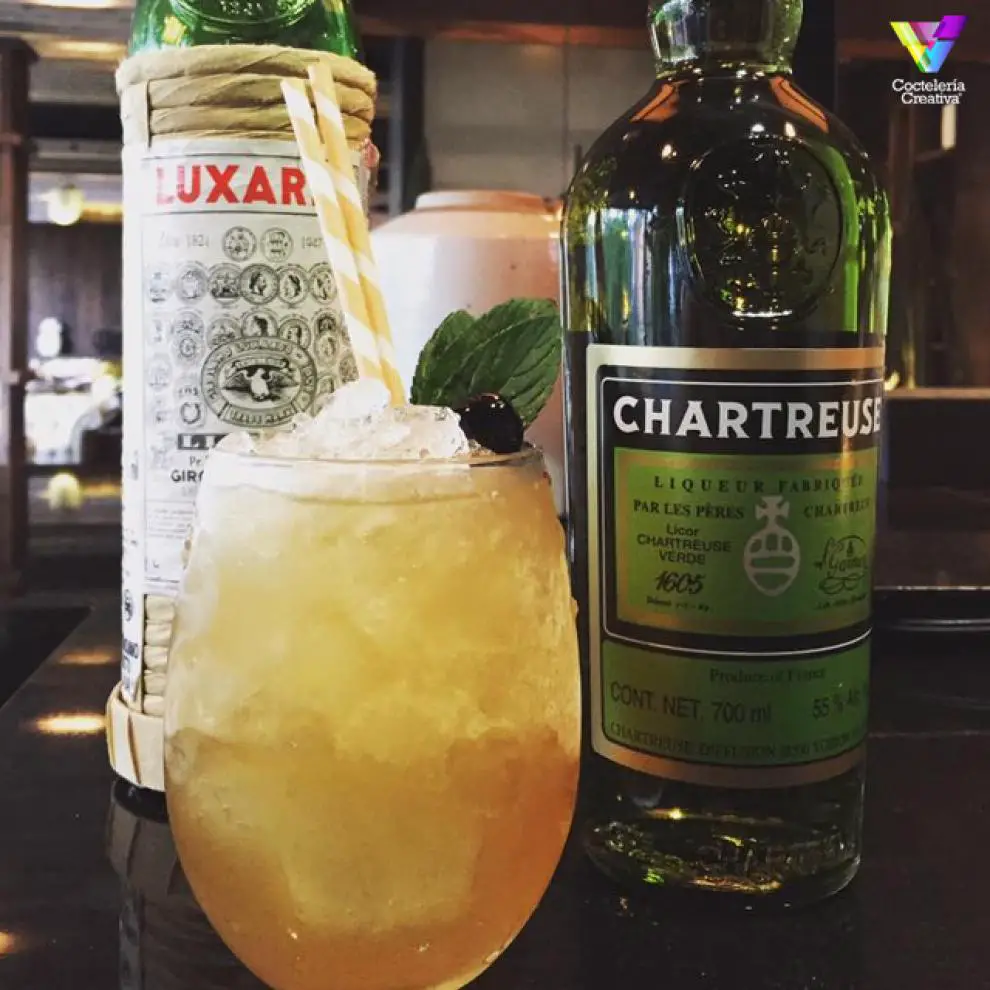 Chartreuse on the rocks
A delicious cocktail made with green chartreuse that will allow you to appreciate the enigmatic qualities of this mysterious and ancient drink. Ingredients what are the ingredients in this drink?
3 ounces of green chartreuse
Ice
How to prepare it follow this recipe and enjoy a wonderful drink!
Place the ice in a digestif glass
Add the green chartreuse
Chartreuse Episcopale
A wonderful combination that will leave your palate wanting to come back for more and more, a drink full of flavor and enchanting aromas. Ingredients what ingredients are used to prepare this cocktail?
6 cl yellow chartreuse
3 cl green chartreuse
Ice
How to prepare it delicious drink that will fill the moment with flavor!
Place ice in a mixing glass and chill it
Discard the excess water from the mixing glass and add the green chartreuse together with the yellow chartreuse
Stir until the liquid is cooled
Strain and serve in a chilled cocktail glass
Tarragona Sour
A different drink that will capture all the attention of those who seek to enjoy exceptional flavors. Ingredients what ingredients are needed to prepare a Terragona Sour?
3 cl yellow chartreuse
3 cl green chartreuse
2 cl egg white
0.75 cl lemon juice
0.25 cl liquid sugar
Ice
Bitter
How to prepare it is a very easy recipe to prepare!
Place the ice, chartreuse, egg white, lemon juice and liquid sugar in a cocktail shaker
Shake vigorously for a few seconds to obtain a homogeneous mixture
Serve in a cocktail glass
Garnish by placing a few drops of bitter on the foam