what is witch hazel water and what are its benefits? Witch hazel is one of the 4 species of the Hamamelidaceae family, found in China, Japan and North America. It is a shrub with several trunks of cracked bark, branched, arising from the same root and reaching between 2 and 7 meters.
Its leaves are used to make witch hazel water, a preparation used by many as a curative drink that heals certain medical conditions thanks to its qualities and properties. Witch hazel water is rich in tannins and flavonoids, which gives it certain qualities that contribute to the body, allowing improvements in both venous and dermatological problems.
Knowing a little about witch hazel water allows us to open our intellect to a world of botanical medicines that heal different health problems and give a little space to those ancestral methods that help the body so much. Witch hazel water is healthy and can become an ideal solution to solve some bumps in the road without the use of conventional and invasive medicine that not everyone likes. It is also a 100% natural beverage with very specific healing powers that many are probably unaware of.
what is witch hazel water?
Witch hazel water is a drink that promotes blood circulation and helps treat varicose veins and hemorrhoids thanks to its healing, anti-inflammatory and moisturizing properties. Its leaves and bark can soothe and treat different conditions that the human body may present.
what is witch hazel water used for?
Witch hazel water is a beverage known as a natural astringent that is used to treat conditions such as circulation problems like varicose veins. But it is also used to soothe hemorrhoids, itching, hives and wounds. Its tannic properties even in the past allowed it to be used as a diarrhea reliever, so its capacity is wide and although unknown by some, it is widely used by others.
is witch hazel water useful for weight loss?
Witch hazel water is a drink that is usually taken to treat problems caused by venous disorders, skin disorders and even hemorrhoids. However, there is no study that indicates that it can be used for weight loss.
Its use is intrinsically linked to the improvement of very specific conditions, not as a concoction that serves to reduce weight, so its use is not recommended for aesthetic purposes as it can generate other problems. Its tannins give it the necessary astringency to treat blood problems related to veins. In addition, its natural properties give it antihemorrhagic, venotonic, vasoprotective, anti-inflammatory, diuretic, antioxidant, bactericidal, antiseptic, ophthalmic and, of course, healing properties.
Benefits of drinking witch hazel water
Witch hazel water has been used since ancient times, its medicinal use is attributed to our aborigines, who found in nature the way to soothe their ailments and today there are many who seek to improve their health with home remedies. Witch hazel has multiple benefits for our health, among them we can mention:
Increases the elasticity of the veins: It has tannins and flavonoids, which are responsible for the powerful venotonic action, making it effective in the treatment of venous insufficiency disorders and poor blood circulation, thanks to its astringent and hemostatic action.
Promotes circulation and venous return: Thanks to its properties, witch hazel water relieves problems of varicose veins, phlebitis, edema and hemorrhoids, both internally and externally.
Antidiarrheal: Relieves colic and other intestinal problems that trigger diarrhea.
Avoids cramps: It is a drink that calms cramps, numbness of fingers and hands, as well as tingling and tired legs syndrome.
Diuretic: Its natural properties make it a powerful diuretic that favors the increase of urine flow and through it the elimination of toxins present in our body.
Wound healing: Thanks to its richness in tannins, witch hazel water acts as a hemostatic, antihemorrhagic and healing agent, which allows healing wounds with or without bleeding, post-shaving hemorrhages and nosebleeds, as well as sores and skin ulcers.
Antioxidant: Thanks to the presence of flavonoids, it strengthens the body's resistance against the attack of free radicals.
Anti-inflammatory: Witch hazel water is anti-inflammatory and a powerful restorative, so it acts on damaged skin resulting from wounds, prolonged exposure to UV rays.
is witch hazel water a natural depurative?
Witch hazel water is a drink that has great purifying and detoxifying benefits, thanks to its tannins, flavonoids and mineral salts it allows you to eliminate any type of intoxicating agent that invades our body.
As mentioned above, the consumption of witch hazel water is a detoxifying drink, so that through the urine, toxins present in our body, which are triggers for different health conditions, are eliminated in an adequate way. It is important to note that witch hazel water also has purifying effects on the skin, eliminating impurities such as pimples, blackheads, boils and the well-known juvenile acne.
how should witch hazel water be taken?
Witch hazel water is a natural product, which allows it to be consumed without major problems, however, like everything else, its excessive use can trigger some conditions. It is recommended to drink between 2-3 grams of witch hazel in infusion 2 to 4 times a day, until the condition disappears.
what are the properties of witch hazel water?
Witch hazel water is a completely natural drink, its leaves as well as its bark allow it to be used to the maximum to alleviate some conditions. Its enormous richness in tannins gives it an outstanding strength as a natural astringent.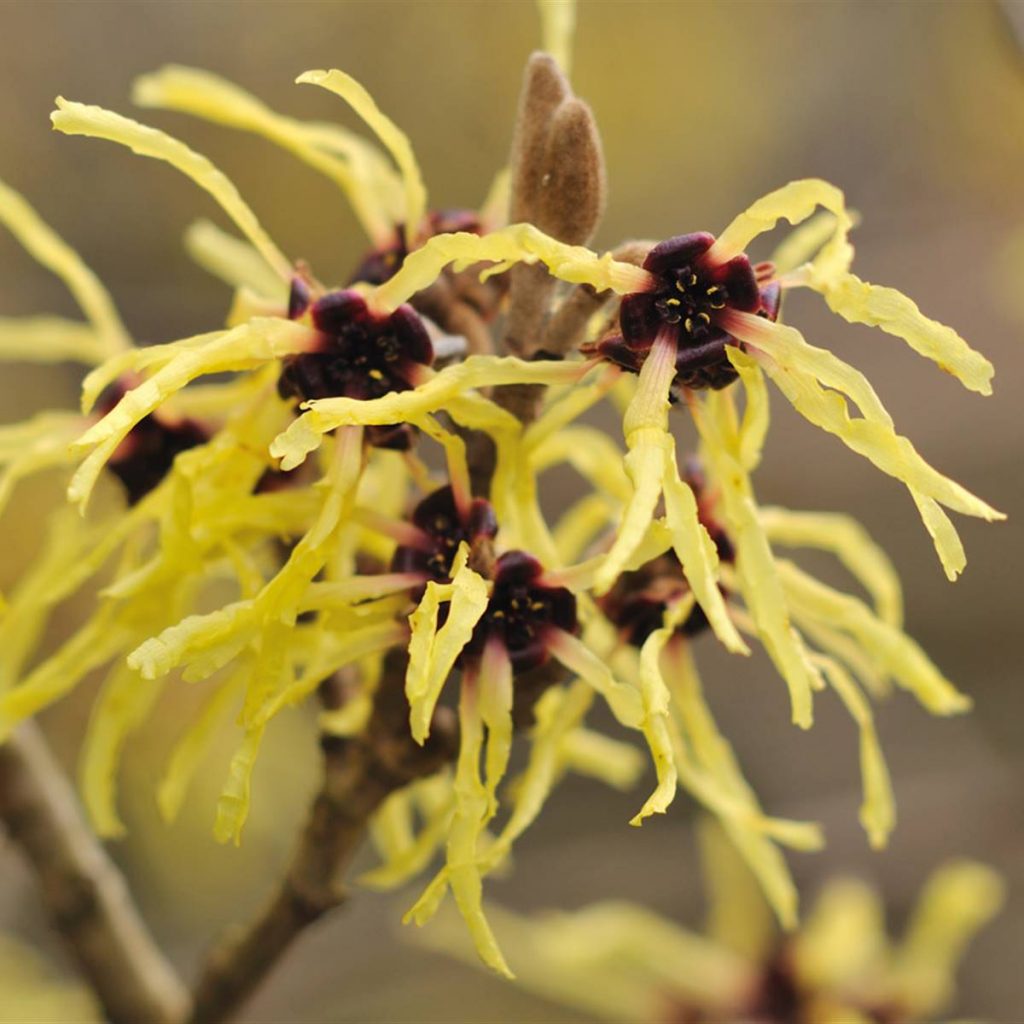 Its natural properties and that make it so special are:
It contains gallic tannins such as witch hazel, both in the leaves and in its bark.
It has cationic tannins.
Its pigments contain proanthocyanidins.
Phenolic acids, derived from gallic acid.
Flavonoids such as kempferol, quercitin and isoquercitin.
Bitter principles.
Essential oil, between 0.01 and 0.5%.
Mineral salts, potassium, sodium and magnesium.
how does witch hazel water work in the treatment of hemorrhoids?
Thanks to its properties, witch hazel water is used to alleviate hemorrhoid problems, it is recommended to use it as a sitz bath. Witch hazel decoction reduces inflammation and stops the bleeding of hemorrhoids, which helps to improve and relieve the pain it causes. It can also be used alone or mixed with mallow and cypress which achieves maximum anti-inflammatory action.
Contraindications of consuming witch hazel water
Witch hazel water is a completely natural product, so it does not seem to have noticeable side effects, however there may be some people who are allergic to its composition. Over consumption may cause some contraindications and side effects, such as constipation and damage to the gastric mucosa.
Experts have not conducted studies on its use in pregnant or lactating women, so it is recommended not to ingest during this time in order to avoid serious problems that may affect the fetus.
+3 Recipes for making witch hazel water
Witch hazel water is used to alleviate and control certain pathologies, so knowing how to take advantage of it is a great idea to treat circulatory conditions, problems related to hemorrhoids and others that cause discomfort. Some of the appropriate ways to prepare witch hazel water are:
Witch hazel water to improve circulation
Many people suffer from disorders linked to circulation, witch hazel water manages to improve our circulatory system and avoid serious problems. Ingredients:
Hamamelis
Sweet clover
Ginkgo
Star anise
Red vine
Lemon juice
Water
How to prepare:
Boil two tablespoons of the mixture per half liter of water.
Let it stand for 10 minutes.
Strain the mixture
Add lemon juice to give it a more pleasant and less bitter taste.
Witch hazel water for varicose veins
Varicose veins are a health problem for many people, they generate pain and discomfort, witch hazel water relieves this condition effectively. This recipe allows you to take a foot and leg bath in warm water, you can also massage your legs with cold witch hazel water. Ingredients:
15 grams of witch hazel
15 grams of ginkgo
15 grams of horse chestnut
15 grams of butcher's broom
Water
How to prepare:
Boil all the ingredients for five minutes
Let cool and strain into a basin.
Hemostatic witch hazel water
For those suffering from bleeding hemorrhoids, nosebleeds and metrorrhagia, witch hazel water is a remedy that provides immediate relief. It is recommended to prepare this recipe and consume it three times a day for the duration of the condition. Ingredients:
20 grams of Hamamelis
20 grams of Salicaria
20 grams of Shepherd's purse
20 grams of Nettle
20 grams of Horsetail
20 grams of Cypress
Water
Mode of preparation:
Boil all the ingredients for 10 minutes.
Strain and place in a container.
Allow to steep.
Undoubtedly, witch hazel is very beneficial for health, and throughout our content we leave for you easy recipes that you can prepare whenever you want.
what are you waiting for to try the healthy witch hazel water?