have you tasted a Malvasia wine? Malvasia is a very versatile grape variety used to produce fresh and light wines with very pleasant fruity aromas that are well accepted by the public.
Malvasia wines are produced in countries such as Italy, Spain, Portugal, among others, who have taken advantage of the cultivation of the vine that bears his name to produce white and red wines with lots of flavor and sweetness.
what is Malvasia Wine?
Malvasia wine is a sweet wine made from one of the varieties of the Malvasia grape, usually white, sweet, generous and aromatic wines.
Origin and History of Malvasia Wine
Malvasia is a very old grape, which was cultivated and known for many centuries. It is believed that it receives its name from the Greek port of Monemvasia in the Peloponnese, from where the wine was exported to Europe.
Historians believe that it was in Venice where it had the greatest influence since it was there that all the wine shipped from the port of Venice began to be called Malvasia.
Its splendor came during the Middle Ages and it was in the Canary Islands where it became more popular since from there it was marketed to all America and England.
During that century it was considered a privilege to drink white Malvasia wine. In Madeira and Porto, Malvasia has long been used to make the famous fortified wines and white wines.
Characteristics of Malvasia Wine
Malvasia wine is generally a white wine, although red wines are also produced
Made from Malvasia grapes
Good acidity
Deep color
They are aromatic wines
The few red wine varieties tend to be pale red to pink in color
Young wines are full-bodied wines
As they age they acquire a nutty flavor and aroma
Color, taste and aroma of Malvasia Wine
Malvasia wines are wines with deep colors, full of very pleasant fruity aromas and flavors.
Sight:

Pale yellow

color

with greenish reflections

Nose

Strong aroma, the Malvasia grape allows to enjoy fruity and sweet notes similar to the nectar of certain flowers

Palate: In the mouth

it is smooth, fresh, balanced, elegant and with good acidity
Alcohol content of Malvasia wine
Malvasia wines are characterized by being fruity and aromatic, their alcohol content is between 13% and 16%.
Types of Malvasia Wine
Malvasia wine is generally a white wine, sweet and aromatic, sweet, dry, semi-sweet and sparkling, however there are some red wines that are characterized by being pale red to pinkish.
Malvasia wines are also usually generous and dessert wines thanks to their sweetness.
Malvasia Wine Pairing
Malvasia wine is a very versatile wine, a quality it receives from the vine from which it takes its name. It goes very well with sweet dishes and all kinds of desserts.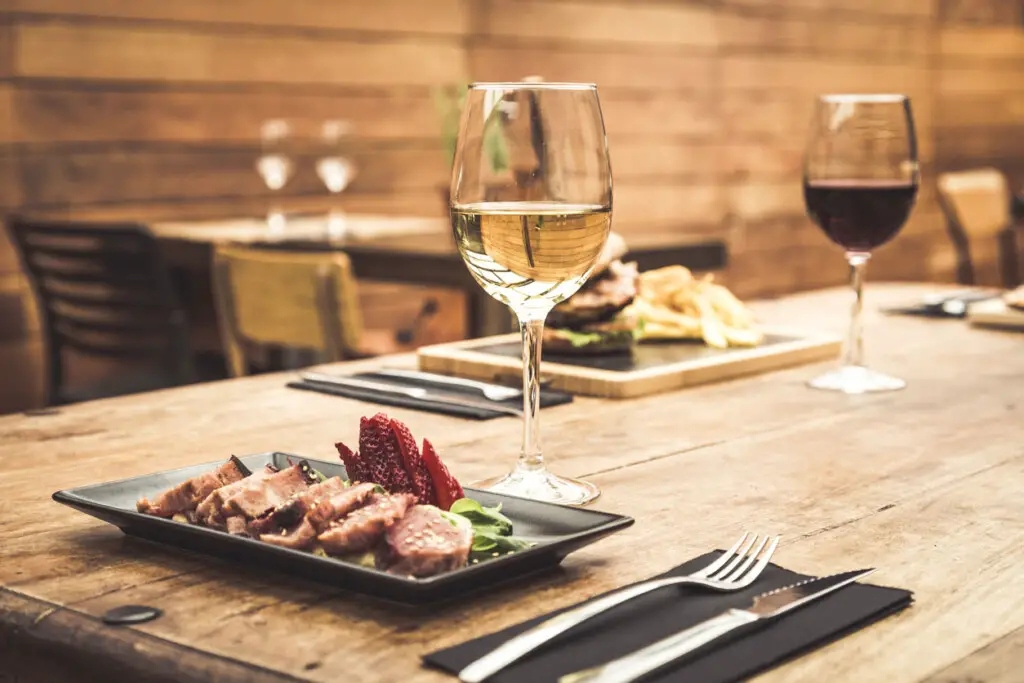 Desserts: Excellent accompaniment to any dessert in general
Appetizers: Its sweetness blends perfectly creating a sensation of freshness
Fish: An excellent combination full of flavor
Seafood: Good with seafood dishes
Rice: Especially with seafood rice dishes or paellas
Cheeses: An ally when enjoying a picada with fresh or semi-cured cheeses
Pasta: The ideal accompaniment for pasta with spicy sauces
Soups and vegetables: An ally without competition
how is Malvasia wine made?
Malvasia wine is made from the Malvasia grape variety, the grapes are subjected to a controlled process of over-ripening, which helps to intensify its alcohol content and sugar content.
Some of its wines are aged with aging in French oak barrels that help to obtain more flavor and more defined aromas, others are aged in stainless steel vats.
Characteristics of the Malvasia Grape
It is a grape originating in Greece, and one of the oldest vines in the Mediterranean basin, it is nowadays cultivated all over the world.
It is a grape with a small, conical cluster
Its grapes are large yellowish-green obovoid and have fine skins
Highly vigorous, with a flat or semi-upright growth habit
Early ripening
Low fertility and low yields
Not very resistant to diseases
Good resistance to winter cold but sensitive to spring frosts
It has low resistance to drought
It is highly sensitive to waterlogging and high humidity
Suitable for mild climates
Sensitive to acid rot
Very sensitive to mites
Malvasia Wine Temperature
Malvasia wines are fresh wines which are recommended to be served at a temperature between 7°C and 12°C.
Price and best brands of Malvasia wine
Malvasia wine is a very well known wine thanks to its flavors and fresh aromas, its price ranges from 9 euros to 80 euros.
Sempreviva 2016
It is a straw yellow white wine with aromas of white flowers, citrus fruits and an exotic background combined with saline notes that give it a broad, dense and very fresh entry €10,90.
Matias i Torres Malvasia Aromatic Malvasia Naturally sweet 2012
It is a yellow colored wine with golden reflections, with a wide aromatic complexity that make it dynamic, balanced as well as elegant with saline notes on the finish 48,50 €.
Laventura Malvasia 2015
It is a golden colored wine full of floral and fruity aromas that give it good texture, body and acidity that make it very pleasant on the palate 19,50 €.
Freixenet Malvasia 2011
A golden yellow cava with fine, lively and persistent bubbles, it features ripe notes, dried fruits and sherried tones that make it fresh and persistent €11.90.
Ibicea Malvalías 2017
A light golden yellow white wine with intense fruity aromas that make it a well-structured wine, round, with quite high acidity, very glyceric and unctuous €13.95.
Niepoort White
A white port made with Malvasia, Viosinho and Gouveio, its golden color pulling to brown make it pleasant, its fresh aroma and delicate fruit give it structure €10.90.
Bermejo Seco 2018
It is a greenish-yellow white wine with great aromatic complexity, it presents notes of lemon and mango with subtle floral aromas. Its passage in the mouth present it very varietal with long finish €16.95.
Verum Malvasia 2018
It is a lemon yellow wine with pale gold reflections bright and dense, its aromatic intensity highlights floral and citrus notes that make it expressive and easy to drink 7,50 €.
Agnvs Malvasia 2017
It is a greenish-yellow white wine with bright edges, in which its aroma of exotic fruits with delicate vanilla perfume make it elegant €8,90.
Yaiza Malvasía Semi-sweet
It is a pale straw yellow wine, with greenish tones, very clean and crystalline, with intense aromas, clean, frank, with floral nuances of a great balance in the mouth 77,70 Euros
Malvasia Laus Martinez
It is an Italian wine with a harmonious golden yellow color, full-bodied and very lively, ideal to accompany ice creams, baked desserts and dried fruits 8,10Euros.