have you tasted a Pingus wine? Pingus wine is classified as the best in Spain and the most expensive, its artisanal method of elaboration and its production of 6,000 bottles per year make it a special wine.
Pingus is the result of two vineyards over 80 years old in the heart of the Ribera del Duero and is vinified with whole red grapes from the country in foudres and malolactic fermentation in new barrels.
En esta nota, encontraras lo siguiente
what is Pingus Wine?
It is a red wine made with red wine under a traditional method that allows the care in its production to obtain high quality wines.
Origin and History of Pingus Wine
Dominio de Pingus is a very small winery located 30 kilometers from Roa, in the province of Burgos. It produces one of the most sought after wines in Spain, its small production makes it one of the rarest and most exclusive wines.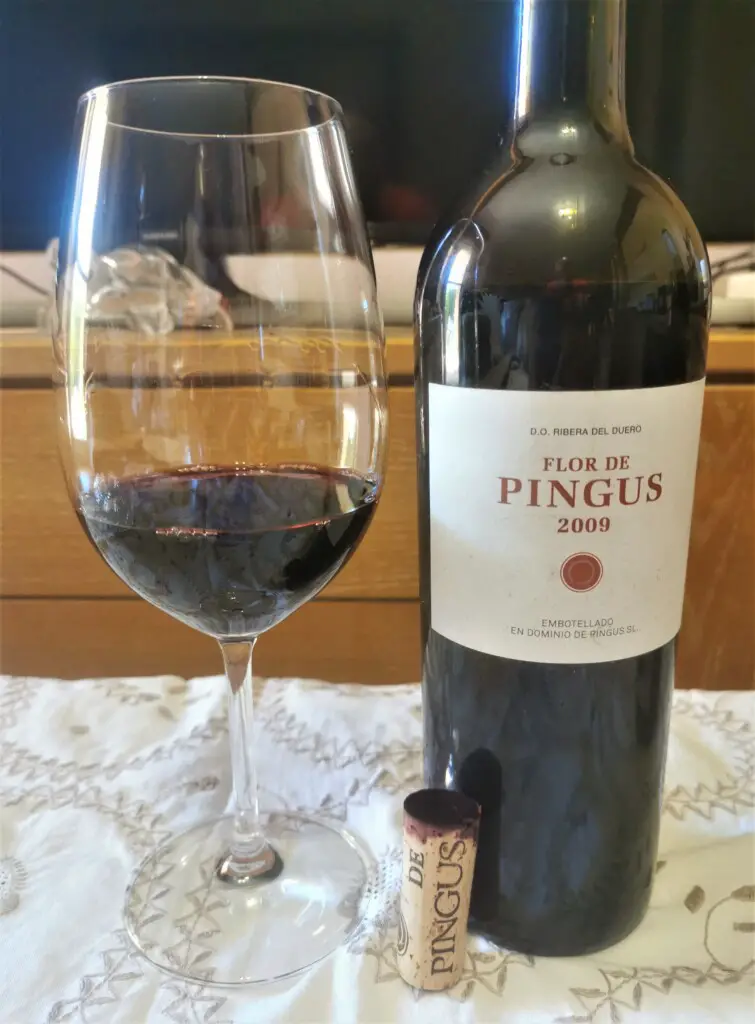 Peter Sisseck, an agronomist and oenologist born in 1962 in Copenhagen, has been living in Spain since 1990, and since then his wines have become some of the most valued in the world.
The Dominio de Pingus winery is an artisanal winery, with a few rows of new barrels, a rudimentary press, some wooden vats and steel tanks.
But the artisanal elaboration and its low production, allow them to take great care in the high quality of the final product.
Characteristics of Pingus Wine
Pingus wine is characterized for being a wine elaborated under artisanal methods
It is made with Tinto Fino
Develops greatness
It is a very elegant wine
Powerful structure
Long and juicy finish
Color, flavor and aroma of Pingus wine
Pingus wine is a red wine made in Spain of great class and distinction
Appearance: Picota cherry color
Nose: Fragrant and intense, prevailing aromas of very ripe fruit both red and black, floral tones, sweet spices and some vegetable tone
Palate: In the mouth the entry of this wine is surprising, a sweet but voluminous at the same time. It is a red wine with a tamed tannin and a smoothness that pleases the palate
Alcohol Content of Pingus Wine
The Pingus wine is an elegant red wine and is characterized by having tamed tannins that make it stand out with an alcohol content of 14.5%.
Types of Pingus Wine
Pingus wine is a red wine elaborated with the Tinto Fino grape variety, under traditional methods of elaboration. Its careful selection of grapes makes it very special and its low production makes it an expensive wine.
Pingus Wine Pairing
Pingus wine is an ideal red wine to accompany dishes made with game meats, its flavor complements perfectly delighting the palate.
Game Meat: It pairs perfectly thanks to its power
Red meats: Ideal combination that will delight everyone
Pork: Good companion when tasting a dish with pork
Roasts: They combine perfectly creating a lot of flavor
Cured Cheeses: Good companion when enjoying cured cheeses
Iberian Ham: A good combination to accompany any Iberian ham
how is Pingus Wine made?
Pingus wine is made with Tinto Fino grapes under artisanal methods, its old vines are cultivated in five hectares and under a very controlled selection. The destemming is done manually and patiently, destemming the ripest grapes from each cluster.
The wine is vinified in small stainless steel vats, in which 50% of the wine undergoes malolactic fermentation in barrels and the rest in stainless steel tanks.
The wine is aged for 18 months, 40% of the wine in new Allier oak barrels and the rest in used barrels. In the case of the PSI variety, it is produced in cement tanks, which allows the maximum fruit aromas to be obtained.
Fermentation is an entirely natural process, with no added yeasts. Aging is carried out in cement tanks, oak vats and non-new French oak barrels from Pingus and Flor de Pingus.
Characteristics of the Tinto Fino grape
Pingus wine is made exclusively from Tinto Fino grapes, grown in the vineyards located in Ribera del Duero, which produce very fine wines considered the best in the world.
Compact bunches of double shoulder and medium size
It is a red grape with a thick skin
Purple-black berries with a colorless flesh
Grows best at relatively high altitudes, but can also tolerate much milder climates
Sensitive to pests and diseases
Poorly resistant to drought and high temperatures
Pingus Wine Temperature
Pingus Wine should be tasted at a temperature not exceeding 16°C to better appreciate its flavor and aroma.
Price and best brands of Pingus Wine
Pingus wine is an expensive wine recognized worldwide as one of the best, its price can range from 20 euros to 1300 euros.
Pingus 2015
It is a cherry red wine with toasted notes, ripe black fruit very expressive with elegant tannins with long and persistent finish €1200.
Rated 99/100 by critic Robert Parker
Flor de Pingus 2016
Red wine in which the good ripeness and selection of the grapes is pronounced, with aromas of very ripe fruit both red and black, floral tones. It is a red wine with a tamed tannin and with an unctuousness that pleases the palate €150.
PSI 2016
Aromatically complex with good intensity, black fruit like ar'qndanos, plums, and red like currant, raspberries, pepper and vanilla. The palate is fleshy, fatty, medium-bodied, black fruit with good concentration, sweet, with well-worked tannin, polished, silky, well supported by fresh acidity €32.90.
Pingus 2016
Intense red with notes of jam and black fruit with a long, powerful finish €1200.
Pingus 2010
Bigarreau cherry color with purple edges, it presents aromas with high intensity, very fresh black fruit, balsamic. In the mouth it is intense, tasty, fresh, sweet tannins, balanced, powerful and long structure 999 €.